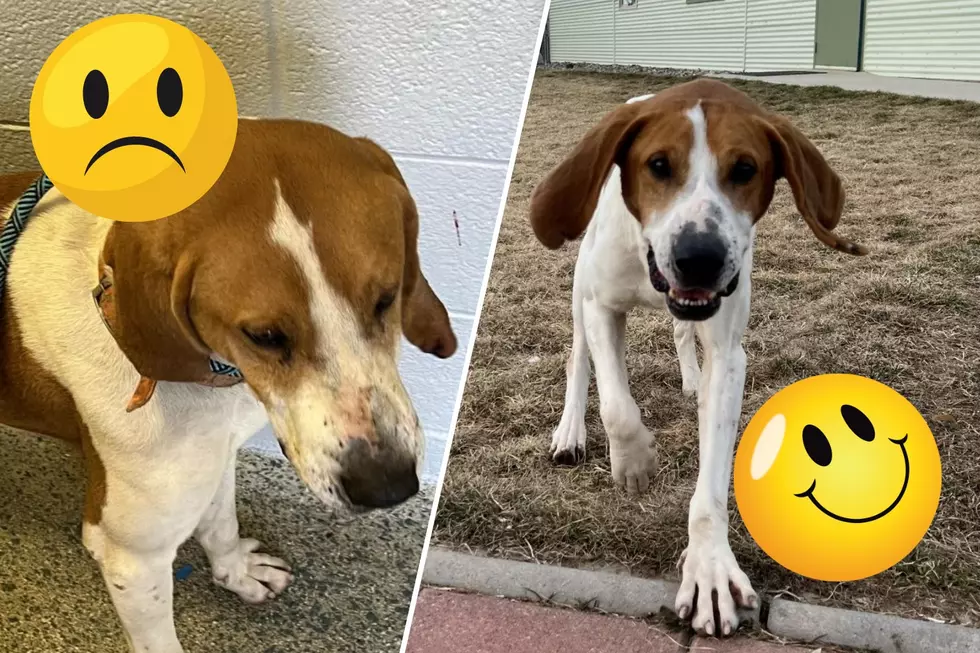 Neglected Colorado Rescue Dog Gets Second Chance To Find Happiness
Roice-Hurst Humane Society/Canva
Sometimes love and happiness can be elusive, but if you're lucky enough, a second chance will eventually come along.
Rocco Gets Rescued From Neglect Situation
One of five hounds rescued from a neglect situation, Rocco came to Roice-Hurst in Grand Junction on New Year's Eve. He was underweight and had cuts all over his face. It was a heartbreaking sight.
Fortunately, Rocco's spirit was still intact, and at age 7, is ready to fulfill a lifelong dream - a loving family of his own. He's an adventurous gentleman - and he loves to sing. Rocco is definitely ready for love. What a difference a month makes.
A Sweet and Faithful Friend
Meet Betty, another of our featured pets this week from Roice-Hurst. She's a little shy with strangers at first but is a sweet and faithful friend. Betty is a 2-year-old cattle dog who has lived with other dogs and cats. She weighs about 50 pounds, but still wants to curl up in your lap.
Beautiful Cat Ready For Slow, Cozy Life
Lilith is 8 years old and is ready to live a slow, cozy life. Although has previously lived with other pets, she would prefer a quieter home where she doesn't have to share your attention with canines. All she needs is a sunny window seat, some gentle petting, and yummy treats.
Is Your Home and Your Heart Available?
Roice-Hurst is always looking for loving homes for the homeless pets that come to the shelter. If you would like to meet one of our featured pets or see what else is available, you can visit Roice-Hurst Humane Society Tuesday through Sunday between noon and 4:00 p.m.
If Grand Junction Pets Had a Job, This Is The Job They Would Have
Grand Junction's pets as humans would be security guards, food critics, lunch ladies, and more. If Grand Junction pets had a job this is the job they would have.
Grand Junction Shares Photos of Pets on National Pet Day
April 11th is National Pet Day and in the spirit of the holiday, Grand Junction shared photos of their pets with us.
More From 103.7 The River