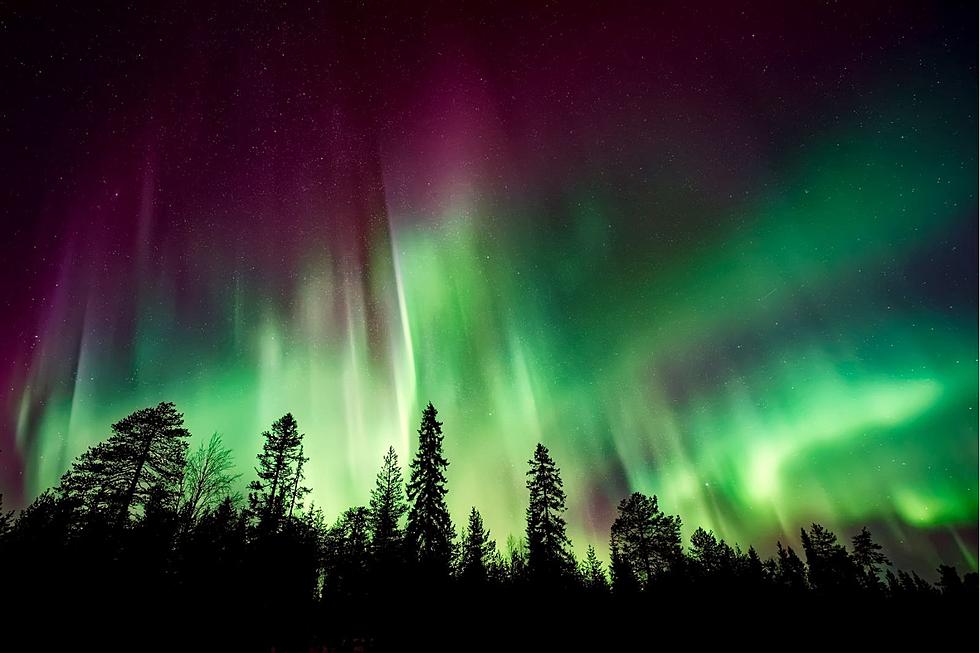 Did You See the Amazing Northern Light Show in Colorado the Other Night?
Canva
The Aurora Borealis, also known as the Northern Lights is a bucket list item for many to see at least once in their lifetime. Those who were up late last night and ventured outside to peek at the sky in Northern Colorado might have been able to check the bucket list item off of their list as the Northern Lights could be seen from Fort Collins.
According to the Geophysical Institute at the University of Alaska Fairbanks, the auroral activity was off the charts late Sunday night into the early hours of Monday morning. The forecasted Aurora activity was projected to be seen overhead in cities such as Portland, OR, Cheyenne, WY, Lincoln, NE, and New York, NY. The Aurora forecast also projected that people in the towns as far south as Oklahoma City, OK, and Raleigh, NC could possibly see the Northern Lights low on the horizon.
The US National Weather Service Denver/Boulder Colorado posted a photo of the solar phenomenon on Facebook that was taken by Mke Charnick just north of Fort Collins early Monday morning.
Facebook user, RM Digital Productions, was able to capture the moment in Estes Park early Monday morning too.
Seeing the Northern Lights is one of my most highly rated bucket list items. Sadly, I was fast asleep when the light show in the sky made an appearance in Northern Colorado. Maybe one day I will get to see it. However, Sunday night and early Monday morning weren't the time for me. Did you happen to see the Northern Lights in Northern Colorado? If you snapped a photo, we would love to see it.
10 Great Colorado Locations for Stargazing
Are you searching for an opportunity to get out and enjoy a look at the night sky? Check out these awesome Colorado locations.
STUNNING: Nighttime photos show the Milky Way over 9 national parks and monuments
If you're the road-trip type, they're all reachable in a day's drive from Colorado.
While the majority of tourists visiting these parks only witness the phenomenal views during the day, there's a sight to be seen under the stars.
Enjoy Colorado's Amazing Night Sky at the Unaweep Yurt at Thimble Rock
Stargaze near Gateway, Colorado with an escape to the Unaweep Yurt at Thimble Rock. You'll be able to enjoy the 360 views Unaweep Canyon at this Airbnb with room for six guests.
More From 103.7 The River