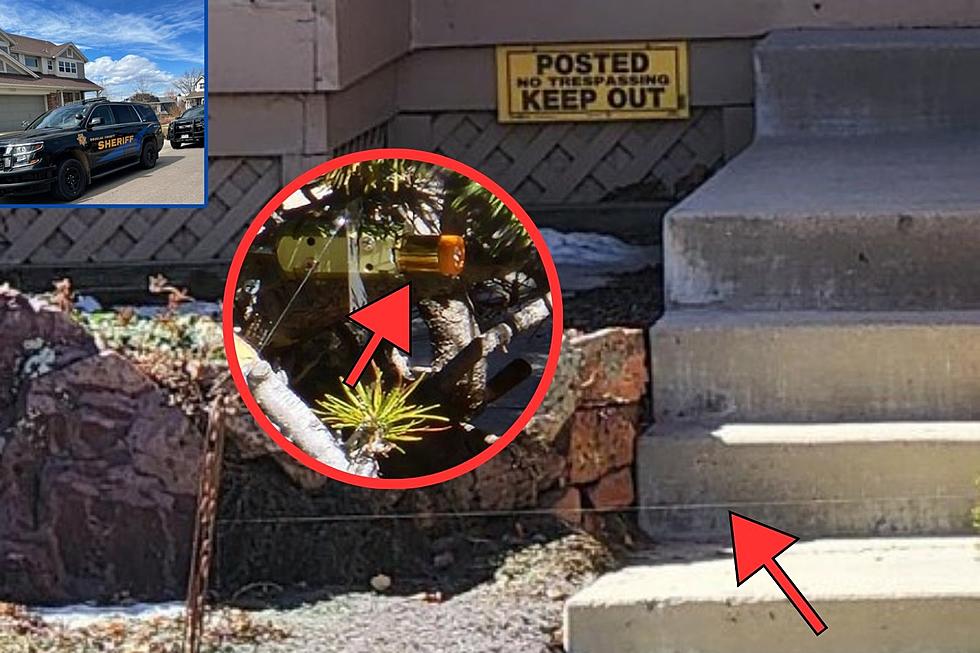 Colorado Homeowner Facing Charges After Setting Booby Traps On Property
Douglas County Sheriff's Office via Facebook
Everybody has a right to defend their property, but, apparently, there is a right way and a wrong way to do that.
A Right Way and A Wrong Way To Defend Your Property?
The right way to safeguard your property would be through locks, lights, gates, alarms, and security cameras. The wrong way is to rig something up that can do bodily harm to a person coming onto your property.
Homeowner Faces Charges After Setting Booby Traps On Property
We learn this lesson from an incident in Highlands Ranch where a Colorado man was injured after being the victim of a booby trap set by the homeowner. Two people were arrested and are facing felony and misdemeanor charges including 2nd-degree assault, felony menacing, and prohibited use of a weapon.
Here's What Happened
According to the Douglas County Sheriff's Office, the victim was "conducting business" and had approached the front door of the house when he heard and felt a loud boom. When he looked down, he noticed a wire was caught around his lower leg and said there was "pain in his ear, and his vision was affected." A man reportedly appeared from the garage at that time saying "no trespassing." There was also a 'No Trespassing' sign posted on the house.
The wire was apparently suspended over one of the steps leading to the front door, and officers discovered a similar device on the steps of the back of the house. Investigators believe the device involved a 12-gauge shotgun round without projectiles. Deputies also discovered a device in the backyard loaded with a chemical agent.
Did These People Have the Right To Defend Their Home?
It will be interesting to see how this plays out in court. Were these people justified in implementing these extreme measures to protect their home? Did they go too far? Are they off the hook because of the no-trespassing sign on the house? Should the victim have avoided the house? Stay tuned - this is still an open and active investigation.
8 Tips To Help Prevent Crime At Your House
Having a surveillance camera is one way to help prevent and solve neighborhood crimes. Here are some tips from the Mesa County Sheriff's Office to help keep your home safe from burglars.
Check Out a Notoriously Dangerous Colorado Neighborhood
Take a virtual tour of the infamous east side of Pueblo, Colorado.
More From 103.7 The River