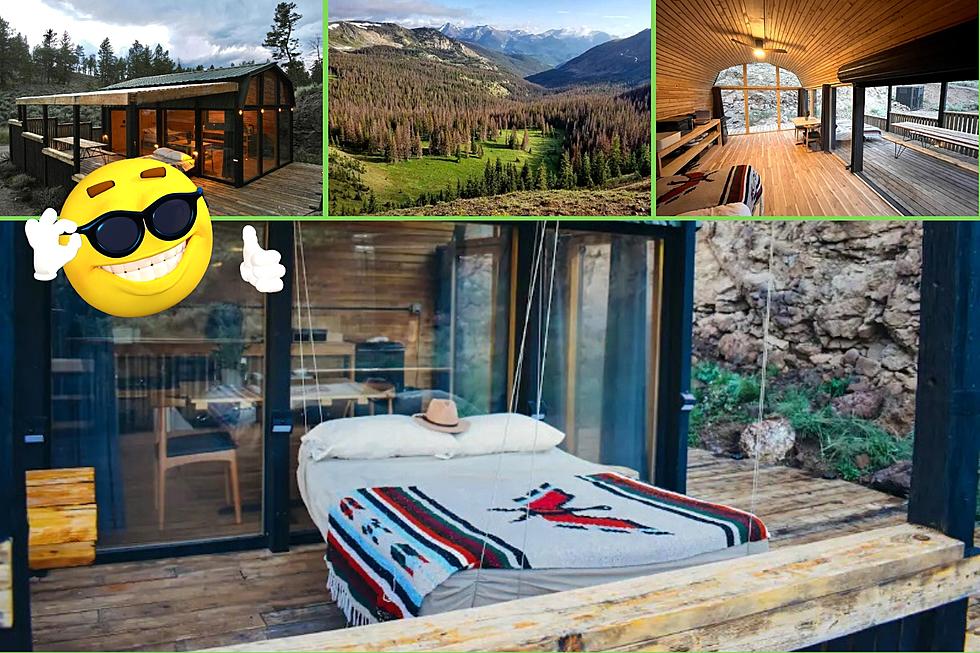 Sleep On A Hanging Bed With Mountain Views At Western Colorado Airbnb
Ben via Airbnb.com/Canva
One of the best things about this western Colorado Airbnb might just be the hanging bed.
It's Like Camping, But So NOT Like Camping
Do you like the idea of camping in the mountains but you're not a fan of sleeping on the ground, using vault toilets, and having campfire smoke fill your eyes while you cook your dinner? If that describes you, the Rock Room might just be the perfect mountain getaway for you.
Great Views With 6 Floor-to-Ceiling Windows
The Rock Room is cut into a rock wall sitting on 35 wooded acres surrounded by a national forest in the Rocky Mountains. With six floor-to-ceiling windows, you always have a great view.
Sleep Outdoors In Comfort
If you want to sleep in the great outdoors but hate the idea of sleeping on the ground in a tent, the hanging bed is the most comfortable way to sleep outdoors while being completely protected from the elements. The bed hangs from the pergola out on the covered balcony, and it looks fabulous. Of course, if you prefer sleeping indoors, there's a bed on the inside as well, so you have a choice.
A Great Place In the Summer or Winter
You've got air conditioning in the summer, and a heater for winter stays. The kitchen offers basic amenities including a mini-fridge, microwave, the all-important coffee maker - that comes with free coffee - plus freshly washed linens and towels.
There is a private trail on the property and you're just a short distance to other hikes, views of 14ers, coffee shops, breweries, and restaurants. You're only 15 minutes from downtown Salida, so going into town for a nice evening meal is an attractive option.
The Rock House Airbnb With A Hanging Bed
If you are looking for a Colorado Rocky Mountain getaway with basic amenities, privacy, plus the beauty of the forest and the mountains, check out the Rock House Airbnb. Scroll on through for a closer look at this unique western Colorado Airbnb.
Glenwood Springs Airbnb Sits Near the White River National Forest
This Glenwood Springs Airbnb puts you right next to the Storm King Mountain trailhead which explores the White River National Forest area and more.
Colorado Airbnb Is The Perfect 'Off The Grid' Getaway
If you want to get away from it all, this is the perfect Airbnb for you. This scenic retreat is just down the road from Walden in northern Colorado.
Boy, talk about an "A-Frame." This remote little cabin has it all: hiking, biking, cross-country skiing, and snowshoeing. To top it off, you'd be hard-pressed to find a hotel room for as little as this unit.
More From 103.7 The River