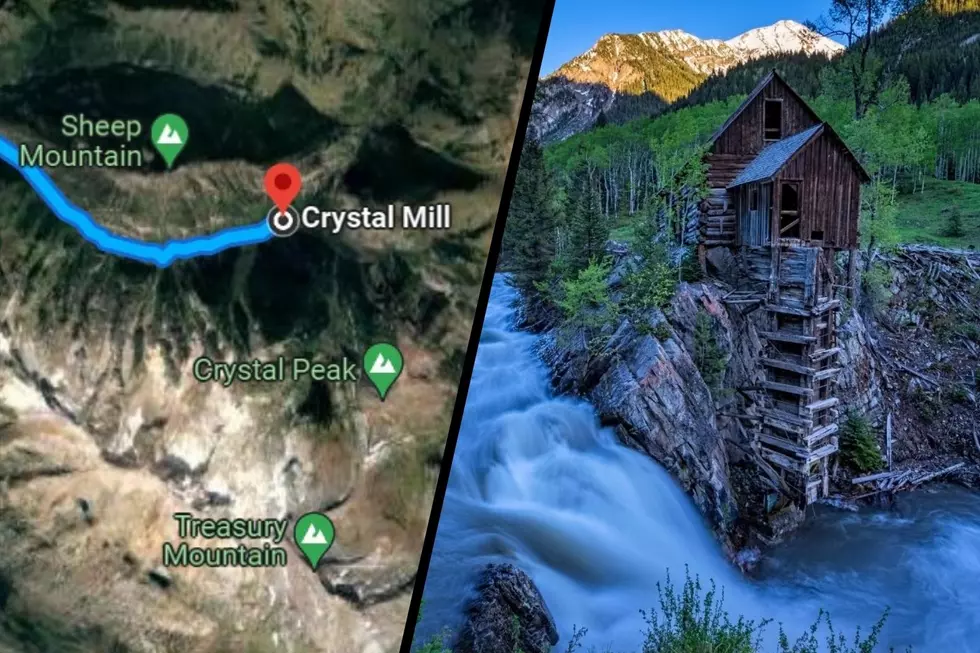 Photos: The Story of Colorado's Beautiful Crystal Mill Power Station
Canva Pro-Getty Images
Crystal Mill is one of the most photographed historic sites in the state of Colorado. It's easy to see why. The old mill along the edge of the river has been around 129 years and looks like the old west meets the seven dwarfs mining house.
The ghost town of Crystal City, and the historic Crystal Mill site, are only accessible during the summer months.  A visit requires a 4X4 vehicle with high clearance.
How Old Is Colorado's Crystal Mill Site?
The Crystal Mill was finished in 1893 and powered the Sheep Mountain Tunnel and Mining company's facilities in the area. Crystal City grew to a population of around 500 people for a couple of decades, but as the mines closed between 1915 and 1917, the population of the town fell to just a couple of residents.
Where is Colorado's Historic Crystal Mill?
The Crystal Mill and the Ghost Town of Crystal City are nearest to the town of Marble, Colorado. Head to Marble for tours to Crystal Mill on horseback or to find a jeep tour of the site. You can also take the 9-mile hike to the site at Crystal City from the town of Marble. The Mill is about a two-hour and thirty-minute drive from Grand Junction.
How Do You Get To Crystal City and the Crystal Mill Site?
Marble is located about seven miles off Highway 133 on County Road 3. The mill site is a 5 to 10-mile drive from Marble. The mill is located a short distance from the ghost town of Crystal City.  We'll include a map with directions in the photo gallery below.
Photos: The Story of Colorado's Beautiful Crystal Mill Power Station
Check out one of Colorado's most photographed historic places. The Crystal Mill was built in 1892 on top of a rock outcrop above Crystal River near Marble, Colorado.
MORE: Lunar Eclipse as Seen From Grand Junction Colorado's Cold Shiver's Point
Did you see last night's (May 15, 2022) Full Super Flower Blood Moon? Grand Junction, Colorado photographer Gary Smith did. Check out a handful of photos from last night's amazing event.
MORE: Take a Tour of The Ball Park Campground in Uravan, Colorado
This is the best Colorado campground you've never been to. If you love camping, rivers, and the great outdoors, set a course to Uravan, Colorado and visit the Ball Park.
More From 103.7 The River