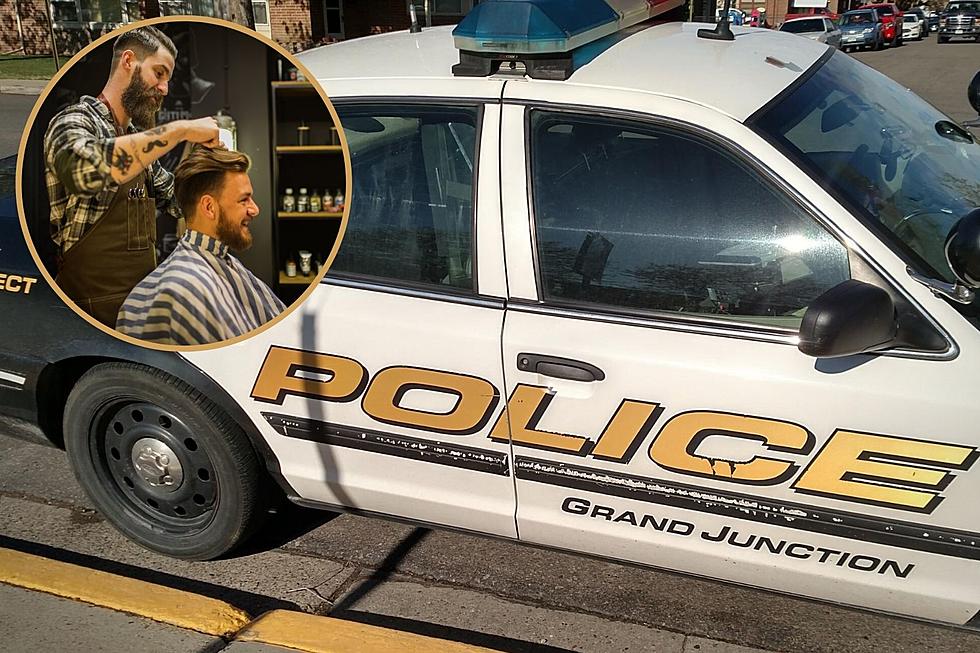 5 Reasons to Attend 'Cops & Barbers' at This Grand Junction Shop
Zane Mathews / Canva
Get a shave and a haircut, and share your two cents worth with officers from the Grand Junction Police Department. A Grand Junction, Colorado barber shop is hosting an amazing event, and it's your chance to talk with police, and while you're at it, meet the new Police Chief.
The Grand Junction Police Department hosts events such as these from time to time, and it would be to your benefit to participate. Here's a list of five reasons why you should attend "Cops and Barbers; Cops. Cuts. Conversation."
Cops and Barbers In Grand Junction Colorado
"Cops and Barbers: Cops. Cuts. Conversation" is scheduled for 3 p.m. on Saturday, February 25, 2023. The event will be held at Bejarano's Barbering at 637 Main Street in Grand Junction.
The press release from the City of Grand Junction reads:
There is something about those chairs, the smell of after-shave, music, and laughter. Barber shops and salons are havens for conversation; news, politics, sports, you name it. It's a place where relationships are built, and we want to be a part of that!
You Are Encouraged To Attend
This is a personal recommendation from me to you. I make it a point to visit each of the GJPD's and Mesa County Sheriff's Office events. Typically, the agencies host "Coffee With a Cop." These gatherings are incredible. They're informal, fun, and an effective way to ask questions, get information and express concerns. No speeches; no agendas.
Five Reasons Why You Should Participate In This Grand Junction Colorado Event
There are countless reasons why you might want to participate in an event such as this. Here are five right off the top of my head:
It's your chance to meet Grand Junction's new Police Chief
Sometimes you have a concern or a question that doesn't necessarily warrant making a trip to the police department. This is the perfect opportunity to discuss your concerns with local authorities.
The casual atmosphere is the perfect environment where you can ask questions and express concerns one on one.
Not everything is an emergency. Sometimes you have ideas lingering in the back of your mind. When you bring these ideas up with those working day to day in law enforcement, you'll be amazed by the information they have to offer.
It's the perfect opportunity and environment to connect with local law enforcement.
Waylon's Bonus Reason To Attend
It's been a few months since my last haircut, and my boss has been telling me I look ridiculous and it's time to clean up. The alleged beard I'm sporting is amusing, to say the least. In addition to enjoying casual conversations with local police, it may benefit me to explore the wonders of the personal grooming options available at a barber shop.
Where To Find Bejarano's Barbering In Grand Junction, Colorado
This awesome event will be held at Bejarano's Barbering at 637 Main Street. This particular shop has been there forever, so you'll probably recognize it instantly.
It's easy to find. Simply make your way to the 600 block of Main Street. You'll find Bejarano's Barbering just a few doors west of the Avalon Theatre.
Please Make Plans To Attend
This is somewhat reminiscent of Floyd's Barber Shop on the Andy Griffith Show. One can't even begin to estimate how many concerns were extinguished while Sheriff Taylor sat in the barber's chair at Floyd's. This may be precisely what we need in Grand Junction.
Grand Junction and Western Colorado Law Enforcement - Robert Grant Photos
Enjoy a short gallery of former Grand Junction and Mesa County law enforcement officers. All photos by Robert Grant.
Classic Grand Junction Race Cars and Their Drivers
Here's a handful of Robert Grant photos featuring Grand Junction area race cars and their drivers.
Classic Western Colorado Photos Found in a Box - Animals
Here's a short gallery featuring Robert Grant photos of Western Colorado animals. Photos were taken between the late 1940s and the late 1970s.
More From 103.7 The River