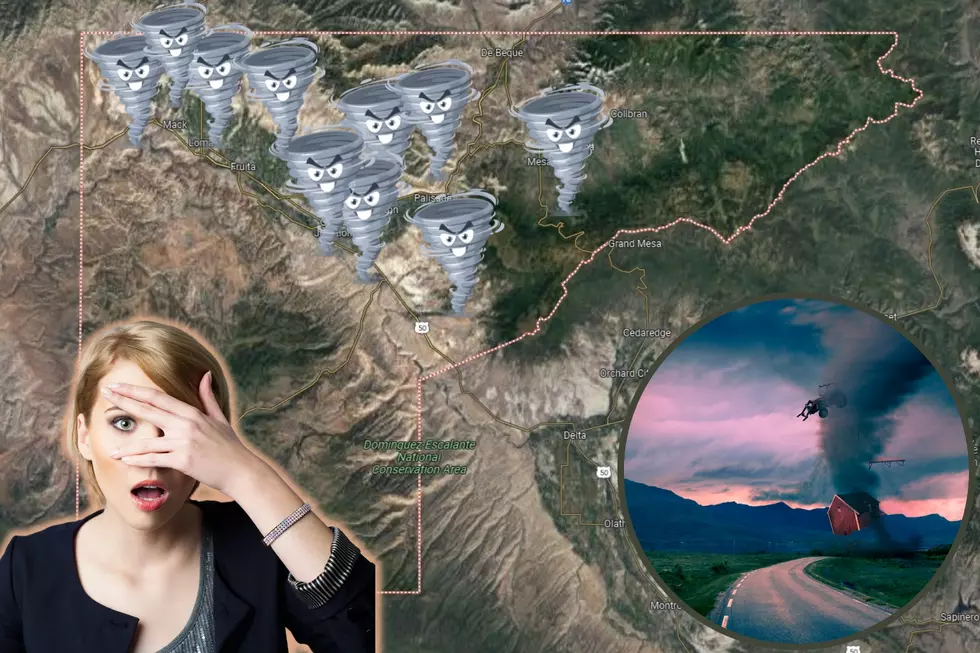 10 Times When a Tornado Touched Down in Mesa County, Colorado
Canva Pro
Even though the risk for tornados in western Colorado is very low, they can and do happen. In fact, they happen in Mesa County far more than in any other county on the western slope. We have even had a tornado inside Grand Junction city limits.
Mesa County's strongest tornado on record is an EF1 tornado. At least two tornados have reached EF1 status in the Grand Valley with winds howling just over 100 mph.
Can Tornados Happen in Western Colorado?
Check out the number of tornados across the counties in Colorado. This map is just a couple of years old but still shows how Mesa County sees the most tornados of anyone on the far western end of the state.
Tornado Warnings in Mesa County
If a tornado watch or warning is issued for Mesa County, be sure to take shelter when appropriate. Basements, bathrooms, and center hallways are your best options when sheltering in your home during a tornado. Prepare for tornados before the warmer weather of May, June, and July when Colorado sees the majority of our twisters.
10 Times Tornados Touched Down in Mesa County
Scroll on to learn about the confirmed touchdowns in Mesa County. While there have been far more than 10 tornados since Mesa became a county, they have only been officially documented since 1950. It's likely there have been far more of them and that there was not sufficient data in the past to confirm them officially. What about before 1950? Grand Junction saw a tornado blow down part of the town library in 1912. Find out more about that storm here.
Mesa County Colorado Has Seen 10 Tornadoes Since 1950
Tornados do happen in western Colorado. While not nearly as often, twisters show up in Mesa County more than anyplace else on the western slope since 1950. Since then, Mesa county has seen 10 documented tornados and several undocumented ones. Scroll on to learn about 10 times tornados touched down in the Grand Valley.
MORE: See Colorado's Top 5 Most Destructive Tornados Since 1950
Did you know the state of Colorado has seen approximately 2,295 tornadoes touch down since the year 1950? These storms have caused about $290,632,440 in property damage in Centennial State. Scroll on to see 5 of the most notorious twisters to ever kick up dust in the Rockies.
LOOK: 12 Colorado Day Trip Destinations Perfect for Valentine's Day
Looking for a Valentine's Day destination in Colorado? Check out 12 popular hotels around the state that would be the perfect place to spend the weekend with your sweetheart.
More From 103.7 The River